Let's create a photo that's timeless and fun to share 
Below are head-to-toe tips designed to help you prepare for your next photo
Our goal is to capture your smile…and the sparkle in your eyes!
Choose your clothes at least one week before the shoot so you are not rushed to purchase a new item, borrow one,
or feel frustrated over not having cleaned your favorite garment.
Overall, cameras prefer:
warm colour tones

small or no patterns

minimal jewelry

matte finish or brushed metals 
Wear clothing that fits the body and helps create a sense of shape – not too tight and not oversized. 
If you do not normally wear warm colours, choose:
mid-toned cool colours (such as charcoal grey, navy blue, soft red or pink, or Aqua).

A pop of colour can add some personality but head-to-toe 'bright or sharp' is visually overwhelming.
For a timeless photo, avoid clothing that is obviously trendy or seasonal as the relevance of your photo will be limited and short-lived.
Remember, simple is always elegant.
Men
If you will be standing in the photo, wear flat front pants to reduce the perception of additional body weight.
Make sure the shirt collar is in excellent condition – no yellowing or loose threads.
If wearing a tie, secure your shirt collar with metal or magnetic collar stays.
Jackets should be single-breasted.
Shoes should be darker than the pant. Socks should match the shoe, which should be polished.
If wearing a suit, navy or charcoal is best; in a solid, tonal, or small pattern such as a narrow pinstripe – a pocket square can add a 'pop' of personality to the look.
Ideally, shirts are white, French blue, or a mid-tone colour.  Avoid short sleeves.
Buttons down the front of the shirt should not gap or pull, when standing or seated.
Consider wearing HD powder for men to reduce sheen (absorb oils).
Shave or trim unwanted or unruly facial hair, nasal hair, ear hair, and trim your brows.
Use a clear lip protector and facial moisturizer to create a healthy appearance.
One week before, prep your skin by exfoliating and make sure your haircut and colour are current.
Women
Tops or dresses with 'v' necklines will visually  lengthen the neck.
Wear a skin-toned or matching colour camisole under a sheer blouse.
Both solids and small prints/designs will work.  If plus size, choose a medium print.
Long sleeves, even rolled up, keep the photo seasonless.
Avoid pastels and solid black or white.
Consider a vest or jacket as a layering piece; avoid hats.
Choose jewelry which complements the outfit, without imitating the colour. E.g. pearls, silver, gold, or turquoise earrings with navy tops.
Earrings which touch your shoulders are too large and  overwhelming; choose ones which end no more than halfway between your earlobe and shoulders.
Avoid low-cut blouses.
If you have a short neck, consider a 'Y' style necklace – or one that's 18″ – instead of a choker.
One week before, prep your skin by exfoliating and make sure your hair cut and colour are current.
Did you Know:
Lighting used in photography can lighten the skin up to 2 shades its normal colour,
leaving you with a 'washed-out' look.
Check out our ideas on how to highlight and contour for your photos, below: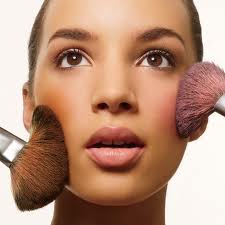 The Art of Makeup
Blending is the key to wearing makeup well. Make sure there are no sharp edges to eye shadows or foundation.
Highlight:
apply a highlighter under the brow and on top of the cheekbone to draw attention to your eyes.  Blend well.
Reduce the appearance of lines and wrinkles:
use a matte soft white

avoid shimmer and sparkle
Contour:
apply a foundation or contour powder 2 shades darker than your normal foundation colour in the shape of a '3':
under the cheekbone,

up onto the forehead,

down along the hairline,

and under the jaw line

blend
Eyes, Neck, and Chin fixes

POP your eyes:
lighten up on the eyeliner

heavy, solid eyeliner makes the eyes appear smaller

use a lighter shade of the same colour on the lower lashes

line only 1/3 of the lower lash and blend along the lash line
Double chin fix:
Apply contour powder under the chin and blend downward.
Wide neck fix:
Apply contour powder in a 'v' on the neck:
start under the left jawbone and take the brush down to the jugular notch (where the collarbones meet at the base of the neck)

repeat this action under the right jawbone

blend the edges so the 'v' is not obvious
Posing inspiration is everywhere!
Look through magazines for a sitting or standing pose and practice them before you arrive for your photo session.
Peruse through Pinterest for individual and group poses you like.  Imitate the pose (and, possibly, the attire) as close as possible by practicing it over and over so you're comfortable and relaxed. 
Group photos:
It's important to create a sense of 'we belong together' in a group photo.  Everyone does not have to dress alike, but everything should be complementary in colour and style.
If you find an ideal pose in a magazine layout, bring it with you or take a photo with your phone to refer to at your photo session.
Relax. Have fun. Share your smile!
Be Fabulous Always,
Julie Thurburn
Colour IQ
214-223-2200
wardrobe advice tailored to your goals